VITAMIN FF E01 Knit Elastic Sports Sneakers
Was

RM699.90
Now

RM384.90
West Malaysia - flat rate RM 10

East Malaysia - flat rate RM 35

Free Shipping for min order RM 250 (West Malaysia), and RM 600 (East Malaysia)
This Vitamin, a sleek superlight sports trainer, will help you move more and feel great. Biomechanically engineered for exercise and casual running, but equally good for upping your everyday activity – from speedwalking to work or cycling round town. Easy to pull on, like the classic laced version, but with a wide foot-hugging elastic strap for a super-clean aesthetic. In a stretchy breathable knit, engineered to give extra support at the sides and arch. Design touches include reflective details (tongue logo/heel strip) for better visibility and white-speckled black-and-neon outsoles. On FitFlop's Neodynamic™ midsole: light, high-rebound, impact-reducing cushioning, featuring a springy central carbon plate that propels you forward and smooths out movement heel to toe. Flexible yet stable, with contoured footbeds for superb arch support (and pressure diffusion). Movement-motivating magic.
As part of FitFlop's e01 project to create more sustainable footwear, these trainers, while not 100% sustainable, feature a percentage of recycled/reprocessed/natural materials and simplified uppers:
Recycled PET polyester in main knit upper* (75%), elastic strap (50%), heel/tongue webbing (100%)
Footbed lining – 100% recycled antibacterial mesh
Insole foam – 30% reprocessed PU foam
Midsole – 10% tea stalks
Outsole – 10% reprocessed white rubber speckles
All from suppliers certified by the GRS (Global Recycle Standard)
*Does not include collar ribbing or breathability-holes sections
Lining Material:
Antibacterial Mesh Footbed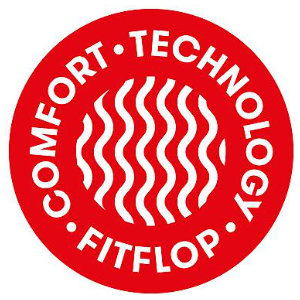 NEODYNAMIC™

Our soft springy Neodynamic™ midsole is specifically designed to encourage FLUID FORWARD NATURAL MOVEMENT.

Made from light, responsive, super-high-rebound EVA cushioning that springs back up after each step and reduces impact.
With a springy central carbon-fibre plate that propels you forward.
Women
US
UK
EU
FOOT LENGTH (CM)
WIDTH (CM)
NARROW
AVERAGE
WIDE
5
3
36
21.8 - 22.2
21.8
22
22.1
6
4
37
22.6 - 23.1
22.5
22.6
22.8
7
5
38
23.5 - 23.9
23.1
23.3
23.5
8
6
39
24.4 - 24.8
23.8
24
24.2
9
7
41
25.2 - 25.6
24.5
24.6
24.8
10
8
42
26 - 26.4
25.1
25.3
25.5
11
9
43
26.8 - 27.2
25.8
26
26.2
DELIVERY & RETURNS
Delivery
West Malaysia - flat rate RM 10 (free shipping min order RM 250)




East Malaysia - flat rate RM 20 (free shipping min order RM 500)
Returns
Return shipping cost will be borne by customers
Please contact the Customer Service before initiate a return
Size guide
added to bag
Continue shopping
Added to wishlist
Continue shopping
Choose your size
Women
US
UK
EU
FOOT LENGTH (CM)
WIDTH (CM)
NARROW
AVERAGE
WIDE
5
3
36
21.8 - 22.2
21.8
22
22.1
6
4
37
22.6 - 23.1
22.5
22.6
22.8
7
5
38
23.5 - 23.9
23.1
23.3
23.5
8
6
39
24.4 - 24.8
23.8
24
24.2
9
7
41
25.2 - 25.6
24.5
24.6
24.8
10
8
42
26 - 26.4
25.1
25.3
25.5
11
9
43
26.8 - 27.2
25.8
26
26.2